Tougher federal air standards could further tilt U.S. electric power away from coal fuel and toward natural gas, says a Duke University study published online this week.

Utilities including Duke Energy are fast moving toward gas as prices drop, retiring older coal-burning plants rather than fit them with new pollution controls.

The cost of complying with stricter air regulations could make nearly two-thirds of the nation's coal-fired power plants as expensive to run as those fueled by natural gas, the study found. That would be true even if gas prices rise to four times coal's cost, it says.

Duke Energy Carolinas' latest 20-year generation plan forecasts a 45 percent drop in coal use by 2032 and an 86 percent increase in natural gas. Duke Carolinas is retiring 38 coal-fired units in its territory.

The Energy Information Administration released this graph Friday. It shows that energy-related carbon dioxide emissions in 2012 were the lowest in the United States since 1994.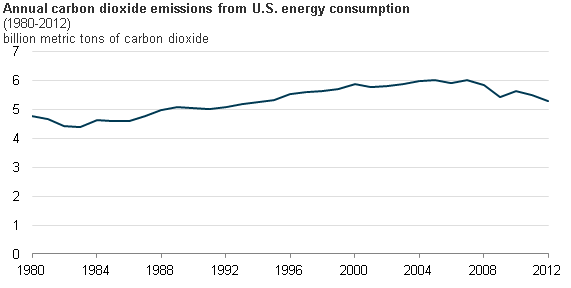 The Duke study was published in the online edition of Environmental Science & Technology. The study is behind a pay wall, but
here's
the abstract. The lead author is Lincoln Pratson, a professor of earth and ocean sciences at Duke's Nicholas School of the Environment, with Drew Haerer and Dalia Patino-Echeverri.